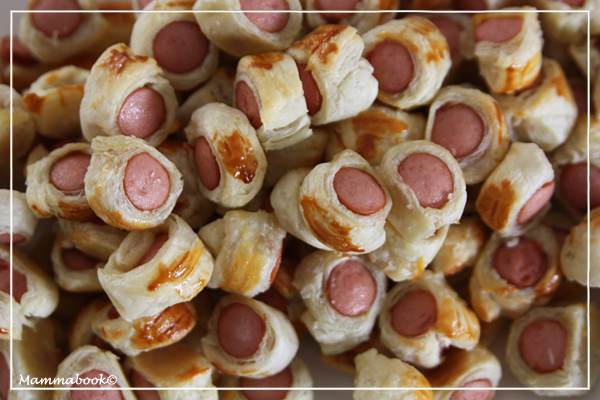 –
Aspetta caro, non è come sembra… i porcellini sono per il blog!
–
Sì, come no, io lo sapevo, che non riesco a invitare nessuno senza che tu ti
metti a strafare!
…insomma, che posso farci? Non mi
crede! E nel frattempo in sottofondo c'è il piccolo che continua a grugnire
perché vuole un porcellino…
Questi spuntini velocissimi li ha
sempre fatti mamma per i nostri compleanni, ma è stato solo quando un amico mi
ha detto che loro in America li chiamano 'piggy in a blanket' che ho cominciato
a chiamarli così: piggy, i porcellini con la coperta!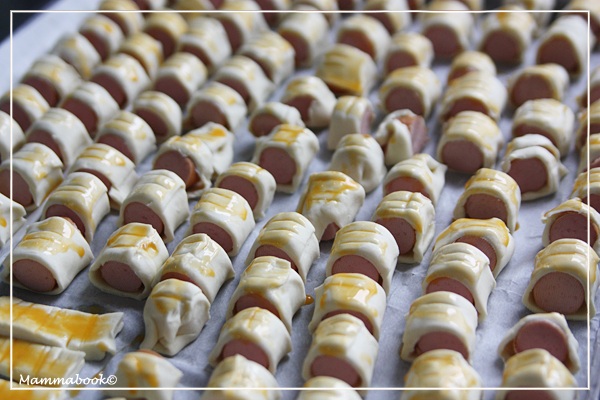 Farli è semplicissimo, servono solo
della pasta sfoglia già pronta, dei wurstel e un uovo. Arrotolate i wurstel
nella pasta e tagliateli a fettine spesse un paio di centimetri. Fate due o tre
segni in alto sulla sfoglia usando il coltello e spennellate la parte superiore
con dell'uovo sbattuto. Infornate per quindici-venti minuti a 200° gradi e,
sono pronti. Facili e veloci… solo ve ne serviranno tanti, perché un porcellino
tira l'altro!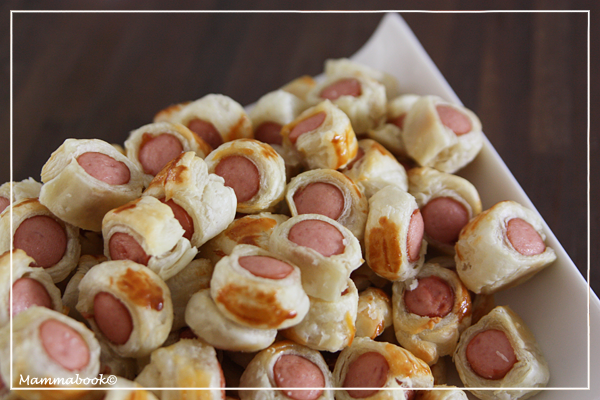 This a really easy appetizer you can prepare in a few minutes. All you
need is a egg, puff pastry and wurstel. Roll the wurstel inside the pastry, and
cut the roll into piece of circa 2 centimentres. Make some signs on top using
the knife, and then brush some whiskey egg on the surface. Cook in the warm
oven (circa 200°) for fifthteen-twenty minutes and… here we are, ready to
serve!