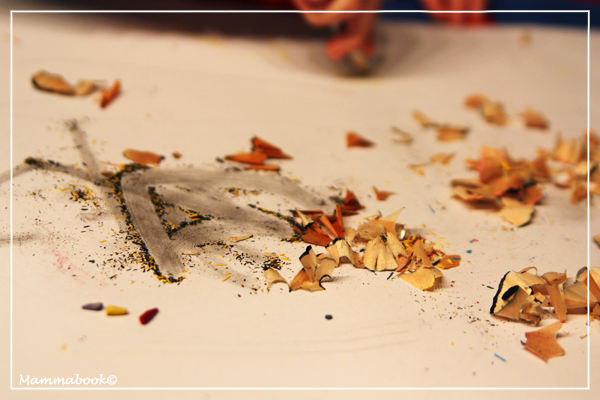 Da piccole conservavamo come
fossero tesori le punte di matita. Facevamo cadere apposta le matite, e
premevamo forte mentre disegnavamo, nella speranza di ottenerne una. A volte
conservavamo anche i trucioli, in cestini di carta piegata sotto il banco.
Finiva che i libri e i quadernoni riposti avevano tutti i bordi colorati per
contatto, e che il legno e la polvere colorata finiva quasi sempre per terra,
con grandi rimproveri della maestra.
With my two year-old son we made
a drawing with pencils, pencil's tips and pencil's shaving. It was a nice way
to show him how the different parts leave different signs on the paper, and he
made him interested in learning how to use the sharpener: both a good artistic
and manual skills exercise.
Forse per via di questi ricordi, quando
ci siamo seduti al tavolo per temperare le matite e fare un disegno, mi è
venuto spontaneo far vedere al piccolo che poteva colorare anche con gli
'scarti'. Che la polvere di matita lascia un segno fumoso largo quanto il dito,
che le punte danno un segno irregolare – a volte secco e magro, a volte largo e
sfumato.
È una cosa semplice, ma sono le
piccole cose che aiutano a trovare nuovi punti di vista che fanno bene. Ne è
venuto fuori un bel disegno e il piccolo ha addirittura imparato a temperare.
Ancora la matita è un po' dura per lui, ma quel tanto di polvere colorata che
serve alla sua arte riesce a procurarsela da solo… un bell'esercizio di
manualità a cui all'inizio non avevo pensato…