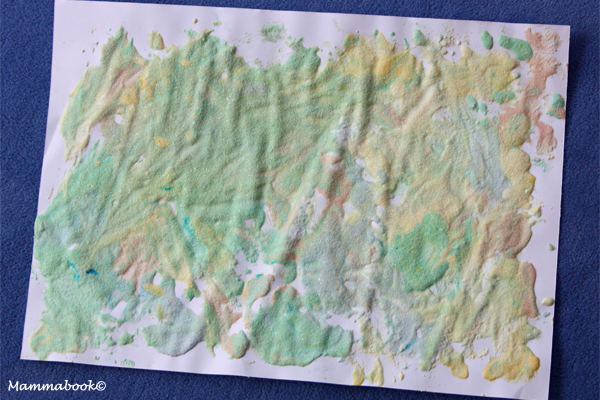 Sembra incredibile, ma è già
passato più di un mese da quando vi ho accennato al "quadro brillante" che ho
fatto quasi per caso con il piccolo. Il tempo corre, i progetti si accumulano e
io ho la testa che mi scoppia perché ultimamente mi vengono due o tre idee al
giorno. Parlano così forte che a volte non sento mio figlio, che da un po' ha
cominciato a chiacchierare in continuazione.
To paint a shiny paint, all you
need is flour and salt in the same quantity, water, and food colouring. The
paint is quite dense, so for painting the best is to use the fingers, or baby
spoons. You will see: when the paint is dry, the salt will make the drawing
sparkle in the sun.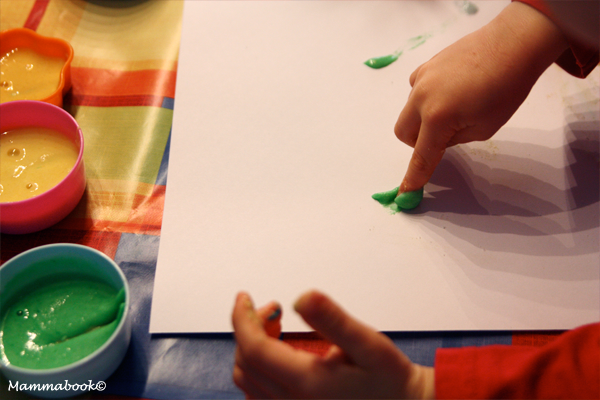 Fatto sta che durante uno dei
miei tentativi falliti di preparare i colori a dita (la ricetta la trovate
qua
– io ovviamente mi ero scordata di cuocerli) ho deciso di ripiegare sulla
pastadi pane
, e poi, chissà com'è, ho deciso di farla quasi liquida e di colorare
con quella. Il risultato? Un'impasto consistente per dipingere in rilievo, da
usare con le dita oppure con i cucchiaini della sorellina. Il piccolo già si
stava divertendo, ma quando ha visto i cucchiai è impazzito di gioia! Sarà
stato anche il brivido della trasgressione, l'usare un oggetto non suo e non
come si dovrebbe? Fatto sta che ha riempito il foglio fino a finire i colori,
in lungo e in largo.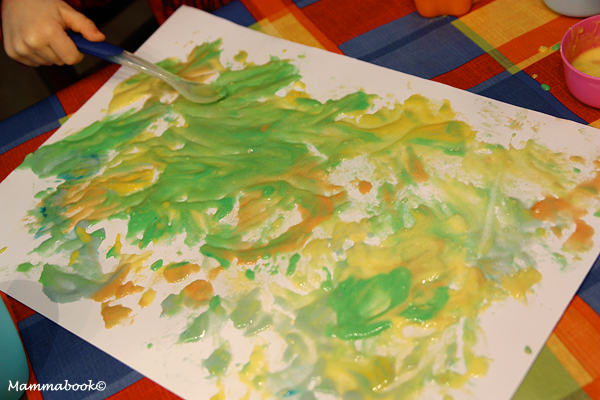 E… sorpresa: pensavo che si
crepasse asciugandosi, invece ne è venuto fuori un bel quadro brillante! Certo,
è un po' difficile da conservare in una cartellina e credo che alla lunga si
rompa, come la
pasta di pane
, la cui 'durata' se ben conservata, si aggira
intorno ai dieci anni…